Comparing HubSpot vs Zoho CRM Differences
Looking to choose the best CRM software between Hubspot CRM and Zoho CRM for customer relationship management? Choosing the right CRM software is such a critical decision.
When it comes to choosing the (best) CRM for customer relationship management for your business, Hubspot and Zoho CRM are tough contenders to each other. But which is the better CRM vendor, Hubspot or Zoho CRM?
To answer this confusion to choose the better CRM, this article talks about key differences between Hubspot and Zoho CRM vis-à-vis a number of selection criteria ranging from features, price and integration capabilities.
So, akin to our personal relationships with our parents, siblings, partners and friends, business customers also need to be nurtured.
In fact, when you build powerful relationships with your customers, it make sures that you get right mix of customer loyalty, trust, and word of mouth referral.
The process of selecting best CRM for your business can be overwhelming. Hubspot and Zoho CRM are two worldwide famous online customer relationship management software which make business customer relationship management easy by organize, track and manage customer contacts with a single system. 
So, choosing the right CRM becomes quite evident as we try to understand how Hubspot CRM compares to Zoho CRM.
With sales, marketing and under one CRM platform umbrella, these 2 SaaS-based CRM systems help in building company-wide business CRM techniques and strategy that helps customer retention with improved productivity and customer satisfaction.
Hubspot Vs Zoho CRM Comparison : Quick Summary
Both Hubspot and Zoho CRM make life easy for building great relationships with customers
Hubspot CRM is free whereas Zoho CRM is free for up to 3 users (If you want more than 3 users in Zoho, there is a pricing structure.
With Hubspot CRM, you can collect unlimited users, data, and up to 1,000,000 contacts whereas Zoho CRM is not.
What is Hubspot?
Hubspot All-in-One – Sales, Marketing and Service Platform
Hubspot is an American software company, famous for building cutting-edge software for products for inbound marketing, sales, and customer service. It is Hubspot which coined 'inbound' vis-à-vis marketers and salespeople. With Hubspot growth platform, the SAAS company has tools for Customer Relationship management, Content Management System (CMS), Marketing Automation, Sales and Customer Service.
What is 'all' in Hubspot? The Hubspot cloud-based growth platform has the following:
Hubspot Products
HubSpot CRM for customer relationship management
CMS Hub for content management
Marketing Hub for inbound marketing strategies
Sales Hub for sales and pipeline management
Service Hub for customer service management
Who is HubSpot CRM for?
In other words, what is Hubspot and what exactly does HubSpot do?
With more than 200 integrations, Hubspot shakes hands with several custom apps to get custom automation and integrations.
In this article, we will try to understand where Hubspot stands when we compare it with Zoho. Let's look at Hubspot CRM first.
Type of software application
Customer Relationship Management, CRM, Software
What is HubSpot CRM? An Overview
HubSpot customer relationship management software (CRM) tool to improve existing customer relationships and track your leads and customers.
When it comes to Customer Relationship Management software or CRM solutions, how you benefit from a CRM software is directly related to tracking toward data. Hubspot CRM software gives you a holistic view on todays' hyper-integrated and highly mobile sales pipeline, with business-friendly CRM functionalities, to push growth of a business.
Being a cloud-based customer relationship management (CRM) platform, Hubspot CRM tool takes care of all sides of a business. Management of new leads and sales conversations becomes easier with sales and marketing Alignment. The all-inclusive CRM platform is the darling of sales and marketing with deals, pipelines, and dashboards centrally visible.
Hubspot CRM Introductory Video
What Does Hubspot CRM do?
Ask anyone involved in inbound marketing, he must have heard of Hubspot. For the uninitiated, HubSpot is an American software product company which has built an all-in-one stack of software. Dealing with marketing and sales, Hubspot CRM gives great visibility of pipeline, sales activities, and close more deals with company and its customers and prospects.
Tracking each aspect of sales pipeline and customer Relationship Management, Hubspot CRM, in recent years, has become life saver for Startup to Enterprise. Hubspot CRM is the ideal answer as it:
is set up super quick and saves lots of time in sales and lead tracking
tracks customer touchpoints automatically
keeps track on sales funnel
HubSpot CRM Key Features list
Hubspot Contact Management :
Hubspot CRM contact management lets you easily add company and contact records in single click. With automatic sales activity getting added, every single record is up to date.
Hubspot Deal Stages :
Deal pipeline management and stages in Hubspot CRM takes care of 'last mile' of sales process.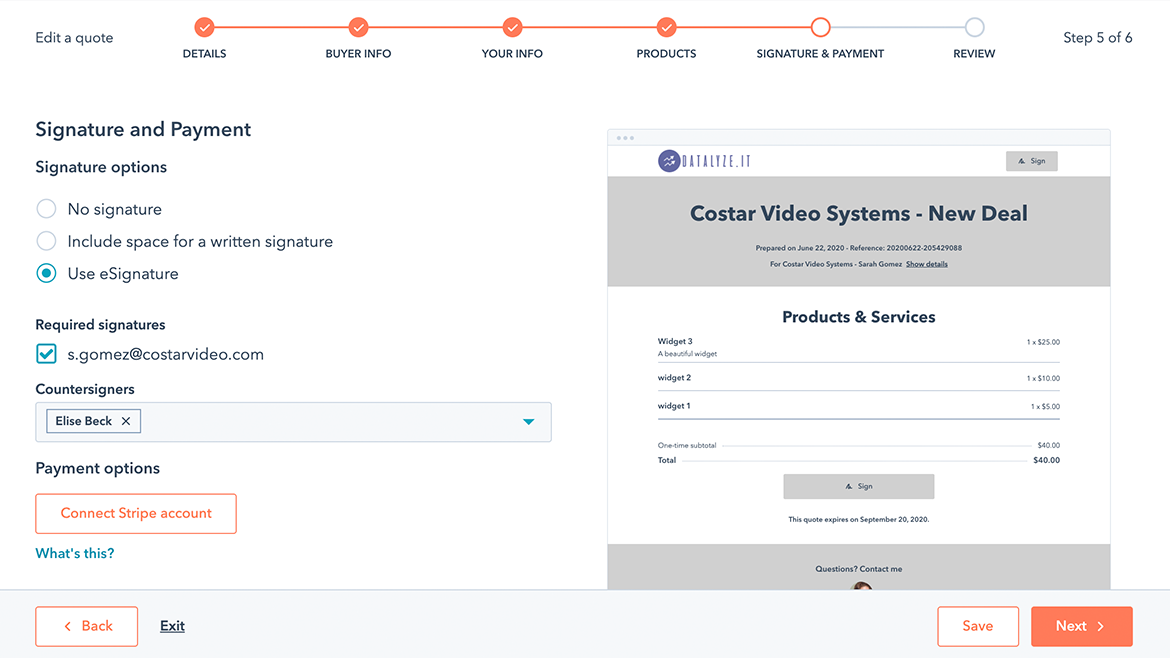 Hubspot Dashboard
Choose any type of data with a number and type of dashboard templates to view entire sales pipeline
Hubspot Task Management
To get rid of the pains of follow-up failures, Hubspot CRM task management takes care of what needs immediate attention.
Hubspot Content Repository
In-built Hubspot CRM content repository for buyers' journey with library of content for your marketing and sales team.
Hubspot Automated Data Capture
With Hubspot landing pages and forms, the process of lead capture works like a dream.
Hubspot Reporting 
Sales reporting with Hubspot CRM software
Hubspot Mobile capabilities
With mobile devices such as tablets and smartphones, creating tasks, reminders, and deals to check out contacts at the drop of hat, Hubspot CRM mobile functionality makes life easy.
Hubspot Marketing Automation integration
Different email integrations with HubSpot is possible t get in touch with contacts and stare marketing messages or emails.
Hubspot Automated Data Capture
Canned Snippets : With short, reusable blocks of text, save valuable time as you prospect.
Email Inbox Integration
Hubspot CRM Pros and Cons
Hubspot CRM Pros
Hubspot CRM Cons
Operating systems supported
Hubspot CRM Implementation
What is Zoho?
Zoho is an Indian cloud software vendor company. The flagship powerful suite of software Zoho as powerful cloud business software everlasting customer relationships. With 40+ integrated applications
What is Zoho CRM?
Zoho is a Web-based customer relationship management (CRM) software for serious business users to build better relationships with customers. a cloud-based CRM tool, Zoho CRM is a great option for small to medium-sized businesses CRM. With comprehensive feature range and choice of price points, Zoho CRM features like lead and contact management, sales pipeline management, opportunity tracking, data management etc.
Zoho Pros and Cons
Improving customer (both current and new) relationships is important. Riding high on this, Zoho CRM includes tools for pipeline management and emails. Bu then there are other features, which would ne
Zoho CRM pros
Comes with email marketing automation
Easy integration with other Zoho apps
Comprehensive reporting
Zoho CRM cons
Not an easy experience as it takes lots of customization
Limited customer support
Need extra effort to map forms with marketing campaign aspirations
Costly as expectations, from functionalities, grow higher
Longer delays in customer support
Zoho CRM Introductory Video
What is Zoho CRM used for?
Zoho CRM Key Features List
Lead Management
Deal Management
Contact Management
Workflow Automation
Sales Process Builder
Processing Rules
Review Process
Operating systems supported
Difference Between HubSpot and Zoho CRM
| Features | Hubspot CRM | Zoho CRM |
| --- | --- | --- |
| | | |
| Average User Rating | 4.5/5 | 4.5/5 |
| Best used for | Small and Medium size businesses | All Businesses |
CRM Product Comparison
4 main differences between Hubspot and Zoho CRM:
While Hubspot CRM is totally free, Zoho CRM has a pricing structure.
With Hubspot CRM, you get task management features but this is not the case with Zoho CRM.
Although Hubspot free CRM is pretty lucrative but as you scale, its pricing becomes costly. On the other hand, Zoho CRM paid plans are more affordable with features like custom reports, lead scoring, and forecasting etc.
There is no sales forecasting feature in Hubspot CRM but you get it when you choose Zoho CRM.
Price Comparison : Hubspot Vs Zoho CRM
| Compare by Price | HUBSPOT CRM | ZOHO CRM |
| --- | --- | --- |
| | Always Free | There is no cost for up to 3 users. For more than 3 users, Zoho CRM charges $12/User per month |
| 10 Users | | |
| 25 Users | | |
| 50 Users | | |
Pricing Comparison : Hubspot Vs Zoho CRM
Features Comparison : Hubspot Vs Zoho CRM
| CRM Features | Hubspot CRM | Zoho CRM |
| --- | --- | --- |
| Contact Management | Yes | Yes |
| Customer Relationship management | Yes | No |
| Lead Management | Yes | Yes |
| Sales Forecasting | No | Yes |
| Task Management | Yes | No |
| Custom Field/Forms | Yes | No |
| Email Marketing | Yes | No |
| ECommerce | No | No |
| Order Management | No | Yes |
| Calendar/Reminder System | Yes | Yes |
| Document Storage | Yes | Yes |
| Internal Chat Integration | Yes | Yes |
| Lead Generation | No | Yes |
| Lead Scoring | Yes | Yes |
| Marketing Automation Integration | Yes | Yes |
| Mobile Access | Yes | Yes |
| Quotes/Proposals | Yes | Yes |
| Segmentation | Yes | Yes |
| Social Media Integration | Yes | Yes |
| Task Management | Yes | Yes |
| Territory Management | No | Yes |
Features & Capabilities Comparison : Hubspot Vs Zoho CRM
Implementation Comparison of Hubspot and Zoho
Choosing the right CRM for your business : Hubspot Vs Zoho CRM, Which is Better?
It is extremely important to have correct alignment between your sales and marketing teams. For measurable marketing and sales goals, it is vital for sales and marketing teams on the same page or single system. At present, there is no other vendor who offers such free CRM features at zero cost.You may always go with advanced CRM features like
Latest posts by SMBCentra
(see all)